Computing
Computing takes a central role in the everyday life of many people within the British community. As the country responsible for the World Wide Web, it is fitting that we are embracing Computing and recognising it as a key skill to be taught to all children in our society.
Whatever their ability, age, gender or race, all children at Riverside Academy will learn the vital life skills in Computing as a foundation for their continuing education and life after academia. Through teaching this subject, we equip children to participate in a rapidly changing world, where work and leisure activities are increasingly transformed by technology. We enable them to find, explore, analyse, exchange and present information.
We also focus on developing the skills necessary for children to be able to use information in an effective way. The application of Computing skills is a major factor in developing children's learning and through the application of the 2014 National Curriculum, our children are able to grow as confident, creative and independent learners.
E-Safety
E-Safety is integral part of children's education in today's digital world and is embedded in their learning at Riverside. Throughout the school year, we have regular E-Safety assemblies to remind children of the importance of keeping themselves safe. We continually revisit our school's code to equip our children with the necessary skills they need to stay safe online. Our school code can be viewed below.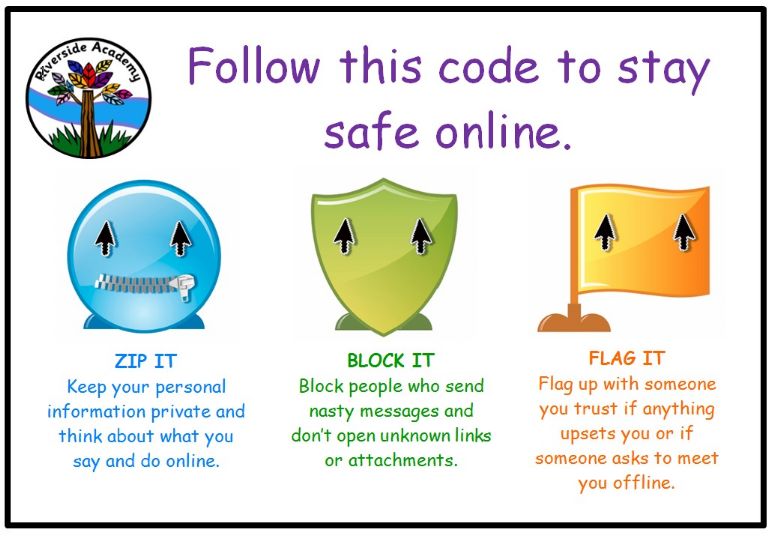 Childnet is a great website resource for parents and children on online safety.
Internet Matters is another great site to use - it has advice on cyberbullying, how to talk to your children about internet safety and quick guides to different types of social media such as Instagram and Snapchat.
All classrooms have an Interactive Whiteboard (IWB) linked to a class computer. Teachers use the IWB as an interactive resource in lessons and the visual images and activities are targeted at focusing and stimulating pupils' interests and engagement. Children are supported in their learning across all curriculum subject areas with a class set of Samsung Laptops and iPads in each Key Stage.
---
In computing lessons, pupils cover all the basic skills required in the National Curriculum through creative tasks. Pupils are asked to apply their skills in a range of activities and multimedia projects ranging from Year 1-6. This integrates all strands of the computing curriculum and provides opportunities for inclusion of all pupils.