Year 6 11B411 Good Deed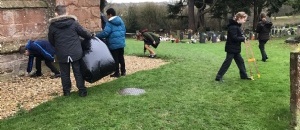 Year 6 volunteered to clean St Bololph's church in Newbold during their Christmas Tree Festival.
Christmas is a busy time at St Botolph in Newbold. During the Christmas season, they hold their Christmas Tree Festival. The church is decorated with many beautiful Christmas trees by people in our local community. Year 6 kindly volunteered to help clean the church during the festival. Armed with brushes and cloths, the children helped with the cleaning of the church and the maintainence of the outside area.