Winter Day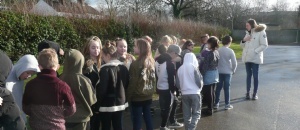 Wrap up warm- winter is still here! Read more about our winter day!
Winter day 2018
Today we launched our "Walk a mile a day" challenge as part of a whole day of winter-based activities- each class took a different route around the school grounds and it was a treat to be out in the fresh air. All of the children and staff wore winter clothes and we enjoyed a special lunch of pizza and hotdogs!
To add to the wintry theme, every class spent time reading and learning about a story or poem with a winter setting: upper Key Stage 2 classes all stepped into Narnia for the day, Year 2 and Year 3 chose the poems 'Falling Snow' and 'I am Winter, King of Seasons' respectively and Year 1 loved reading The Gruffalo's Child. Keep an eye out for work on these texts on the learning displays around school.