Christmas at Riverside!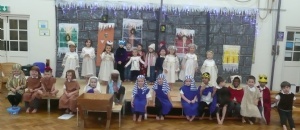 The last week of term is full of festive activities which the children enjoy such as Christmas Performances, Christmas lunch, party day, carol service at church and festive workshops for nursery. Nursery even received a visit from Santa!
On Monday 12th and Tuesday 13th December Years 1 to 6 took part in our school Christmas Performance, 'A Christmas Carol'.
On Tuesday 13th December Reception performed 'A Christmas Nativity'.
On Wednesday 14th December Nursery had a Christmas workshop where they took part in festive activities with their parents.
Also on Wednesday Christmas Lunch was served to the pupils and on Thursday the children had a Christmas party day- the children thoroughly enjoyed celebrating Christmas.
Finally on Friday it was Christmas jumper day - the pupils made an fantastic effort! In the morning the children took part in a carol service at our local church. It was brilliant to see all the children singing along and having a great time.