Celebration Lunch for New Kitchen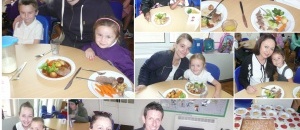 On Wednesday 12th and 19th of October, we celebrated our new kitchen by inviting parents in for lunch with their child/children.
What was served....
Roast Scottish Beef with Yorkshire pudding, roast potatoes and gravy.
Oriental Quorn with egg Noodles.
For dessert there was chocolate frosted sponge or ice cream.