Temple Speech Rooms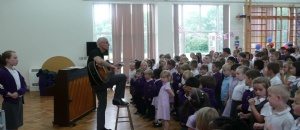 On the 6th July our students had the fantastic opportunity to sing at the Temple Speech Rooms in Rugby.
Jeremy Dibbs has been coming every week to work with the children. Our school has been filled with music. The children are enjoying it and this is a great opportunity for them to perform in an iconic building in their local town. On 6th July the whole school sang at the Temple Speech Rooms in Rugby.
This was a truly memorable occasion as we filled the rooms with music and singing. This gave the children an opportunity to perform to a high standard in an iconic building under the direction of a professional musician. Our grateful thanks to the Rugby Rotary Club and Warwickshire Music who made it all possible. All those who attended gave lovely feedback and made the audience participation come alive. Thank you all.
We also were privileged by the company of the Lady Mayor, we send her our thanks.