Year 5/6 Trip to France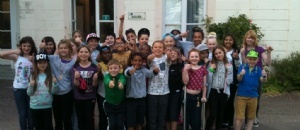 Find out what some of Year 5/6 have been doing on their trip to France and what they have left to experience.
Some of Year 5/6 have had the great opportunity to go on a trip to France. So far they have visited and taken part in many different activities such as:
Cite de la Mer - Is a maritime museum in France, it has a cylindrical aquarium which displays the successive marine life forms, a large museum and a new underwater expedition in a virtual, digitized building.
Caramels d'lsigny - See how these famous & delicious caramels are made from scratch.
American Military Cemetery - Visit the American Cemetery to witness the huge sacrifice made by on of our greatest allies to help win WWII.
Omaha Beach - Visit Omaha beach and witness the calm and peaceful surroundings whilst trying to picture the incredible event that once took place here.
Bayeux Tapestry - holds an embroidered cloth nearly 70 meters long, which depicts the events leading up to the Norman conquest of England concerning William, Duke of Normandy, and Harold, Earl of Wessex, later King of England and culminating in the Battle of Hastings.
Bayeux Cathedral - This is a Norman Romanesque cathedral, located in the town of Bayeux. It is a national monument of France.
Mont St Michel - The island has held strategic fortifications since ancient times and since the 8th AD has been the seat of the monastery from which it draws its name. The structural composition of the town exemplifies the feudal society that constructed it: on, top God, the abbey and monastery; below, the great halls; then stores and housing; and at the bottom, outside the walls; houses for fishermen and farmers.
The places/activities they still have left to see are
Les chevres da la Saffrie - See how the cheese maker rears his goats and makes his delicious goats' cheese.
Boulogne sue mer - Is a northern city in France, its the country's largest fishing port, specialising in herring.