Year 5 and 6's trip to Edale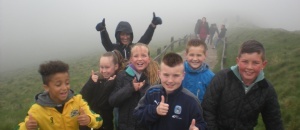 Our recent trip to the Peak District was a huge success and we all had a fantasic time!
Rock climbing, abseiling, caving, canoeing, hiking...what a way to spend a weekend! As well as tackling these specific challenges, the children also learned how to work better as a team and how to communicate more effectively.
It was also a fantastic opportunity to develop their independent skills- sorting out what clothes or equipment were needed for the day ahead and keeping the rooms tidy were all part of the learning experience.
Here are some of the images from our weekend (mostly taken by the children!)
"The children were great representatives of the school and made us all feel really proud."- Mrs Payne
"Although I found some activites challenging, I gave 100% and enjoyed all of them! I would recommend it to anyone who would like to try new things." - Taleisha, Y5